Attention A T users. To access the menus on this page please perform the following steps. 1. Please switch auto forms mode to off. 2. Hit enter to expand a main menu option (Health, Benefits, etc). 3. To enter and activate the submenu links, hit the down arrow. You will now be able to tab or arrow up or down through the submenu options to access/activate the submenu links.

Veterans Affairs Acquisition Academy (VAAA)
Learning to Serve Veterans
May 24, 2011

Extracted from the May 2011

edition of the Chief Learning Officer Magazine
By Kellye Whitney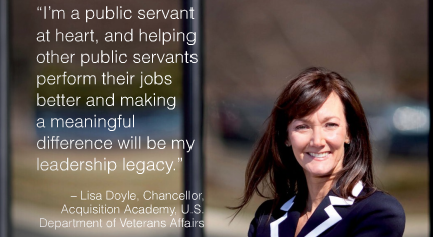 Lisa Doyle says her work as a public servant and as a learning leader is her chance to give back. As chancellor of Acquisition Academy for the U.S. Department of Veterans Affairs (VA), Doyle has responsibility for all development of acquisition professionals — a target audience of roughly 40,000 individuals, including contracting professionals, program and project managers, facility managers, logisticians and technical representatives.
The VA's mission — "to care for him who shall have borne the battle, and for his widow and his orphan" by serving and honoring the men and women who are America's veterans — is one that's close to her heart. Not only are her father and brother veterans but Doyle also has spent most of her career in government roles beginning with an entry-level position in acquisition in the U.S. Department of Defense. Sixteen years later, she moved to the U.S. Department of Commerce, where she remained for six years before moving into private industry to build a training institute for a consulting firm that worked closely with the government.
"Having knowledge and expertise in the field of acquisition, I knew what they needed to be trained on and how they needed to be trained," Doyle said. "So I was able to develop a robust curriculum, stand up a highly successful training institute, and I did that over six years. Then the VA was interested in standing up their own academy, and because I love to build things and had the opportunity to start something from the ground up, I took the position and came back to government. I'm a public servant at heart, and helping other public servants perform their jobs better and making a meaningful difference will be my leadership legacy."
A self-described lifelong learner and voracious reader, Doyle said she can never learn enough, never experience enough and never take enough in. She works to share that love of learning with the interns who come to take part in the acquisition internship school — one of several schools — in the VA's Acquisition Academy. Upon acceptance, Doyle presents the interns with sponges to signify their responsibility to absorb and take in as much as they can as well as to expand their outlook and commitment to put 100 percent of themselves into the program.
The ability to create, execute and share a strategic vision is one of Doyle's greatest contributions, according to Richard Garrison, vice chancellor for the academy's program management school.
"She drives the standard of excellence for the academy," Garrison explained. "The next piece she provides is empowerment. She's more of a leader than a manager, and you have a lot of different types of leaders. You have micromanagers who either do it all themselves or it has to be their way. Then you have the opposite end of the spectrum where Lisa falls. She makes certain we come to a common understanding of what success will be, and she allows you to really excel and achieve that success by building on that initial vision to make it your own. She's there when you have 'What do I do now?' questions. She's there when you say, "I need you to go fight this battle for me.'"
The VA spends more than $15 billion annually to buy the goods and services needed to care for the country's veterans. Much of the organization's work is the result of some sort of contract, and the acquisition professionals who attend the academy are responsible for executing and managing those contracts. "President Obama has charged us with doing that effectively and efficiently," Doyle explained. "We call that our fiduciary responsibility — to spend that money wisely. So we teach the students who come here for training how to do that by giving them the technical, interpersonal and leadership skills they need."
It sounds fairly straightforward — teach a targeted group of professionals how to navigate contracts for goods and services — but as is the case with many learning leaders who serve clients who work full-time, Doyle must convince their managers to release them to take part in learning interventions.
"The greatest challenge is helping supervisors and managers understand that training is a force multiplier, and if they give the employee time away from their job, I will send them back better people," she said. "My reason for being here at the academy, my raison d'etre, is to change behavior and improve performance. If managers and supervisors will allow them to come here, they will be able to work faster, better, smarter. That's what I try to communicate across the VA to all of those managers who have to sign off on their employees to come to training — to embrace it [and] understand that they will get a return on their investment."
Doyle's predilection for building things from the ground up came in handy as she has not only developed the academy's workforce, she designed the 80,000-square-foot building where it's housed.
"When I worked with the architect and furniture designer I said, 'Close your eyes and think of a normal government facility, and we're going to do the opposite,'" she said. "I used a lot of color, texture, fun and funky fabrics, a lot of different woods, different kinds of glass. I've made it into an environment that breeds innovation and creativity, but I've done it in a very cost-effective manner."
Creating the right learning environment is critical because it can take several years to earn specific credentials. Each of the five schools — the acquisition internship school, contracting professional school and program management school, with supply chain management and facilities management schools expected to follow later this year — has curricula meant for multiple levels from beginner to advanced. For instance, the contracting professional school, which trains and certifies the VA's existing contracting workforce, has levels one, two and three. The program management school, which trains and certifies the VA's program and project managers and contracting officer technical representatives, has entry, mid- and senior levels. Each school's curriculum has several classes in each level.
To enhance their learning experience, interns can serve on job rotations at 47 different locations, and rotations increase in length and complexity as their knowledge and skills increase. Often when the interns go out on rotation assignments, their new managers want to keep them, Doyle explained. "I tell them, 'I have to bring them to the academy, train them a little bit more and then I will infuse them into the workforce and give them back to you,'" she said.
This year, Doyle and her team also will launch a program for wounded warriors, including veterans returning from Iraq, who need to be reskilled, retooled and inculcated back into the workforce. Alongside traditional interns, the veterans will serve as acquisition interns, learning how to buy goods and services. They also will receive stress management skills training to help them deal with any physical, mental or other changes they may have as a result of service in Iraq.
The Acquisition Academy offers a flexible melange of learning, including classroom-based activities, learning laboratories with simulations, e-learning, job rotations and video teleconferencing. Interns execute mission service projects where they actually serve veterans as well as go on field trips to VA medical centers and hospitals to experience the mission firsthand.
"For example, when we went to the VA medical center in Martinsburg, West Virginia, and the director was giving us a tour, she said, 'Running this medical center is like running a city,'" Doyle said. "She pointed to a building and said, 'That building over there is our laundry facility. Without the contractor and the contract that you award to operate that facility, I don't have clean sheets for my beds, and I can't run a hospital without clean sheets.' The interns were able to see clearly how the contracts they work on help the veteran by executing our mission."
These types of mission-reinforcing trips and service projects do much to aid retention efforts, Doyle explained, but the academy has other metrics by which it gauges learning impact. For instance, it has established a learning standards office, led by a learning standards officer, responsible for evaluating and assessing the instruction, content and delivery across all five schools.
Still, determining ROI can be tricky. "When we're looking at return on investment, we're looking at our contracts being awarded faster, more efficiently — are we saving more money, are they being managed more effectively, are we getting the results we're looking for that the contract was awarded to achieve?" Doyle said. "We're engaging with stakeholders to understand if their employees are performing better on the job, if there's increased productivity, increased employee retention; there's obviously increased bench strength when we send the interns out."
Doyle already has met her goal of establishing the VA's Acquisition Academy as a learning standard for use in other government agencies. "When I started the academy, I said, 'I want to get this right for the VA first, then I want to open it up governmentwide,'" she said. "In the very first year I was able to do that, and I've served eight other cabinet-level agencies thus far. As I serve more agencies, I will need more space, more people, more resources, and I would say the next challenge I will face is outgrowing my space and not being able to handle my throughput."
Anticipating growth will not prevent Doyle from constantly improving the learning currently available, however. Nor will she cease leveraging the sizeable discounts her operating scale allows her to obtain for veterans and other federal agencies' or establishing the power of learning throughout the government.
"We have nowhere to go but up in terms of growth, in terms of serving not only the VA but the federal workforce," she said. "I've hosted many visits here at the academy from distinguished visitors. Members of Congress have been here, and I've hosted visits from their staffers on three different occasions. As a result of one of the visits, Congressmen Connolly and Nye sent a letter to the director of U.S. OPM [Office of Personnel Management] and OMB [Office of Management and Budget] that basically said the academy should be used as a benchmark or as the training provider for other agencies."
Until formal plans are made for VA-style learning to extend to other government agencies on a larger scale, the Acquisition Academy will continue to fulfill its mission.
"We're here to ensure that people who come through our doors walk out with skills that will improve the VA's performance," Garrison said. "Training time is time not spent fulfilling the mission from a lot of people's perspectives. Lisa helps them understand that it's not time away, it's time you're investing in that individual to be a force multiplier when they come back."
Kellye Whitney is managing editor of Chief Learning Officer magazine. She can be reached at kwhitney@clomedia.com.
X
External Links Disclaimer
This page may contain links to pages and/or documents outside the Department of Veterans Affairs Domain. These are annotated as shown below. We hope your visit was informative.

U.S. Federal/Military/State Government Sites — You will leave the Department of Veterans Affairs web site by accessing links annotated with this graphic.
X
External Links Disclaimer
This page may contain links to pages and/or documents outside the Department of Veterans Affairs Domain. These are annotated as shown below. We hope your visit was informative.

Non-Government Sites — You will leave the Department of Veterans Affairs web site by accessing links annotated with this graphic. VA does not endorse and is not responsible for the content of the linked web site.
return to top