Attention A T users. To access the menus on this page please perform the following steps. 1. Please switch auto forms mode to off. 2. Hit enter to expand a main menu option (Health, Benefits, etc). 3. To enter and activate the submenu links, hit the down arrow. You will now be able to tab or arrow up or down through the submenu options to access/activate the submenu links.

Veterans Affairs Acquisition Academy (VAAA)
Warriors to Workforce program gives Vets a second chance
May 3, 2012

Extracted from the May 4, 2012, issue of Federal Computer Week ©


By Matthew Weigelt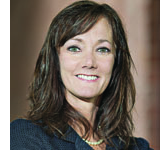 Lisa Doyle, chancellor of the Veterans Affairs Department's Acquisition Academy, has a special place in her heart for those who have been wounded during military service and has long recognized the need to help service-disabled Veterans make the difficult transition back to civilian life.
Her novel solution was to set them on a successful career path as acquisition professionals. She came up with the germ of the idea several years ago when she visited wounded Veterans at a military hospital in Virginia. The idea eventually became the new Warriors to Workforce program.
The three-year program includes courses in leadership, technical acquisition training and on-the-job experience and is designed to train severely wounded Veterans to become professionally certified as contract specialists.
Doyle, who won a 2012 Federal 100 award for her work on the program, spoke recently with senior writer Matthew Weigelt about the need to provide Veterans with career support and the particular talents they bring to the workforce.
FCW: Tell us more about the program's goals and mission.
Doyle: The Warriors to Workforce program is specifically targeted at those who have been in combat recently. They typically wanted to remain in the military service but, because they were wounded, are not able to serve. Now they have to figure out what they want to do for the rest of their lives. This program allows them to have a career path in the field of acquisition.
The program is also upholding Abraham Lincoln's promise: "To care for him who shall have borne the battle and for his widow and his orphan."
When you come to the academy, the first thing you'll see here is that promise. It's our mission. I had painted it on the wall in Abraham Lincoln's handwriting.
We've been upholding that promise ever since. And I'm so proud to continue to do so.
FCW: How does the program help Veterans?
Doyle: The program gives the Veterans a new opportunity for life and also a job.
As of June 2011, more than 1 million Veterans were unemployed. The unemployment rate for post-Sept. 11 Veterans, particularly in the age group of 18 to 29, is significantly higher than the rest of the Veteran population.
So this is our way of being able to help reduce that unemployment rate and give career opportunities to Veterans.
FCW: How did you come up with the idea?
Doyle: All along, I've been developing this program. It's really been over the last three years in creating our existing intern program and then naturally transitioning that into our wounded warrior program.
We knew it was needed. We just needed to develop an appropriate program for them. We needed a program that would ensure their success.
This is a journey for them, and really every day is a success for them to be able to participate in this program and succeed.
FCW: How did you find your first class of students?
Doyle: We worked with VA's outreach programs for returning Veterans and the Defense Department's transitional offices to identify any candidates who would be appropriate for this program.
We visited the wounded warriors at Quantico, Camp Lejeune and Walter Reed and talked with them about it and determined if they had an interest and could participate [after they were released].
In our existing intern program, we have more than 150 interns, and 50 percent of them are Veterans. Warriors to Workforce is specifically targeted at service-connected disabled Veterans. In our inaugural class, seven of them have Purple Hearts. Two have Bronze Stars.
In this new cohort, not only do I have 23 heroes — and they are absolutely my heroes — there is also a service dog. So I have a dog in the academy, which is a lot of fun.
FCW: What do you look for in prospective students?
Doyle: My interns are my hearts and minds. They have to have heart to do this job. They have to be public servants at heart. We have a noble mission of serving veterans, so I want them to have compassion, care and understanding. That's where their heart comes in.
They also have to have a sharp intellect to be a business adviser and be able to broker the right deal in the right way at the right time to get those goods and services we need to care for our Veterans.
FCW: Are there any other similarities among the Veterans in the program?
Doyle: Many of them went right from high school into the desert. They didn't have an opportunity to go to college. This is their first exposure to an academic environment.
They're developing their mental skills and their emotional skills. They're working on their transition from the battlefield into the workforce, and that is a challenge every day. But they are succeeding every day.
The Warriors to Workforce program is really focused on changing behavior, improving performance and creating a career path for our warriors.
FCW: Where did you get such a strong sense of connection to veterans?
Doyle: I am a public servant at heart. I come from a long line of public servants in my family, and my father was a veteran and so was my brother. Really, this is my turn to give back.
I'm really honored to be able to serve our veterans and also help our wounded warriors by giving them a career path in government and not just a job.
The wounded warriors do bring out my heart more than others because they need it. They need it and they deserve it. They are my heroes and that's how I greet them: "Good morning, heroes."
FCW: How does this program fit in with VA's mission?
Doyle: We're the Department of Veterans Affairs, and we're very committed to hiring veterans. They bring so much to the table in terms of their qualifications and characteristics. They make exceptional candidates for employment.
They have leadership skills, teamwork skills. They're loyal, committed. They work well under pressure, for example. And they're quick learners.
They will be infused into the VA workforce throughout the nation. It's really going to be veterans serving veterans. So they're going to be contract specialists buying the goods and services needed for the care of veterans.
X
External Links Disclaimer
This page may contain links to pages and/or documents outside the Department of Veterans Affairs Domain. These are annotated as shown below. We hope your visit was informative.

U.S. Federal/Military/State Government Sites — You will leave the Department of Veterans Affairs web site by accessing links annotated with this graphic.
X
External Links Disclaimer
This page may contain links to pages and/or documents outside the Department of Veterans Affairs Domain. These are annotated as shown below. We hope your visit was informative.

Non-Government Sites — You will leave the Department of Veterans Affairs web site by accessing links annotated with this graphic. VA does not endorse and is not responsible for the content of the linked web site.
return to top