Attention A T users. To access the menus on this page please perform the following steps. 1. Please switch auto forms mode to off. 2. Hit enter to expand a main menu option (Health, Benefits, etc). 3. To enter and activate the submenu links, hit the down arrow. You will now be able to tab or arrow up or down through the submenu options to access/activate the submenu links.

Veterans Affairs Acquisition Academy (VAAA)
Academy trains the VA workforce that buys and manages goods and services for Veterans
November 7, 2015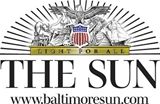 From The Baltimore Sun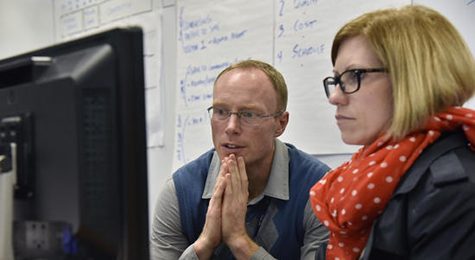 Eric Pear, Saline, MI, and Shaena Overstreet, Washington, DC, Program Management (PM) Fellows, work on a simulation. The Department of Veterans Affairs Acquisition Academy (VAAA), a workforce development training center, has been expanding programs designed to address shortages at the VA and other federal agencies. (Kim Hairston/Baltimore Sun)
By Lorraine Mirabella

— Contact Reporter
The Baltimore Sun

Federal worker Eric Pear had never heard of a career in acquisitions before he began training for one.
The 46-year-old worker at a Veterans Affairs hospital in Ann Arbor, Mich., has traded work helping patients with prosthetics for studies in a classroom at a workforce development academy in Frederick.
The VA

Acquisition Academy, tucked behind a commercial strip outside Frederick's historic downtown, trains VA professionals to buy and manage supplies and equipment, handle contracts, run facilities, and oversee benefits for Veterans.
Since opening in 2008, the academy has developed into five schools and several programs. One program, Warriors to Workforce, helps wounded Veterans move from the military into federal careers overseeing contracts or programs.
Pear was accepted into the academy's Program Management School in October 2014 to pursue a fellows program that alternates between the classroom and job sites. When he graduates in January, he will return to the Ann Arbor hospital as a project manager overseeing mental health services.
The academy is aimed at addressing a shortage of specific skills in the VA and at other federal agencies, which spend hundreds of billions of dollars each year on goods and services. The VA alone spends more than $17 billion annually on items that range from buying hospital equipment to managing initiatives for homeless Veterans.
"We try to make sure that we train our project managers to be good stewards of the VA's money," said Deborah Gadsden, acting vice chancellor of the Program Management School. "You have to do it on time, on schedule, on budget, and with integrity, honesty and with good leadership."
Students in program management follow a structured curriculum in classrooms and online, with coaching, mentoring and on-the-job rotations, leading to a federal certification in the field.
Once certified, an employee can work in a midlevel management job anywhere in the agency. A nurse, for example, could manage operating room staffing for a hospital.
The fellows program goes beyond the certification, offering more intensive on-the-job-training.
All of that appealed to Shelly Weltz, a 40-year-old staff assistant at the Frederick academy who decided to become a student there herself.
"It sounded a lot like what I've always done for years, but a structured version of what I've done," Weltz said. She graduated last year and went on to manage several projects for the academy.
"When I looked into it, I realized that's right up my alley," she said. "It's helped me expand my duties and responsibilities."
With her new skills, she has moved up again and started a new job last week as a program management specialist in an information technology systems office at the U.S. Department of Commerce.
"I'm a very organized person," Weltz said. "I like to get things done and keeping things moving, and that's what project management is about."
The academy also offers federal certification in contracting. And it trains supply chain and logistics workers, as well as those who plan, build, operate and maintain the VA's more than 1,000 health care facilities, benefits offices and cemeteries across the country.
As of September, students representing more than 59,000 seats — a measure that counts the multiple courses taken by individual students — had trained at the academy. Currently, 129 students are enrolled. The academy also offers training to other federal agencies.
On a recent weekday, Pear and two other fellows huddled around a computer and a white board in one of the academy's 16 classrooms. The students worked on a case study provided by their instructor, Lawrence Suda.
They were required to think like project managers charged with upgrading a heating-air conditioning system at a large hospital. They were asked how they would replace it with a more energy-efficient system, on time and on budget.
After three days, Suda said, each group would outline "what worked well and what didn't work."
Pear, now 12 months into the fellows program, said his initial impression of the academy was right — that it would help him move up from a job that had become routine to one in which he could be more creative.
"I knew I'd be surrounded by a team of motivated individuals," he said, and that "program manager was going to be a good way to make an impact."
"This [training] gives you confidence," he said.
The academy's Warriors to Workforce program, a track launched in 2011 in the Acquisition Internship School, strives to give that type of confidence to wounded Veterans trying to find their way in the workforce.
Students earn college credits to become contracting professionals over one year, then transfer into the academy's two-year internship program.
The program is about "giving them a hand up, not a handout, to get them from military environment to a business environment," said David Sella, the program's manager.
Veterans, who already face higher-than-average unemployment, have an even tougher time if they are disabled, Sella said.
That was the case for Marvin Nunez, 32, a nine-year Navy Veteran who became disabled while on active duty with injuries that affected his vision and required five surgeries. Nunez struggled to find a job after leaving the service in 2011.
Trained as a medic, he wanted to put his military skills to use and tried to find another medic job or to work in the U.S. merchant marine.
"The first year after getting out, I applied for jobs but I wouldn't get picked [because] most of the jobs, you had to go through a physical," Nunez said.
He thought about going into social work, and enrolled at Frederick Community College.
There he heard about the Warriors program. He soon realized he'd found a field that would let him build on his military expertise — as a medic, he'd also been in charge of supplies.
Nunez, an intern in a rotation based at the Perry Point VA Medical Center in Perryville, will become a contract specialist. He works on a commodities team in charge of buying supplies for VA medical centers in Maryland, Washington and West Virginia.
Because he's still helping to care for patients, he said, it's not that much of a stretch from his life in the Navy.
"It was a perfect fit," Nunez said.
Copyright © 2015, The Baltimore Sun
X
External Links Disclaimer
This page may contain links to pages and/or documents outside the Department of Veterans Affairs Domain. These are annotated as shown below. We hope your visit was informative.

U.S. Federal/Military/State Government Sites — You will leave the Department of Veterans Affairs web site by accessing links annotated with this graphic.
X
External Links Disclaimer
This page may contain links to pages and/or documents outside the Department of Veterans Affairs Domain. These are annotated as shown below. We hope your visit was informative.

Non-Government Sites — You will leave the Department of Veterans Affairs web site by accessing links annotated with this graphic. VA does not endorse and is not responsible for the content of the linked web site.
return to top