Attention A T users. To access the menus on this page please perform the following steps. 1. Please switch auto forms mode to off. 2. Hit enter to expand a main menu option (Health, Benefits, etc). 3. To enter and activate the submenu links, hit the down arrow. You will now be able to tab or arrow up or down through the submenu options to access/activate the submenu links.

Veterans Affairs Acquisition Academy (VAAA)
Senior Acquisition Leadership Training (SALT)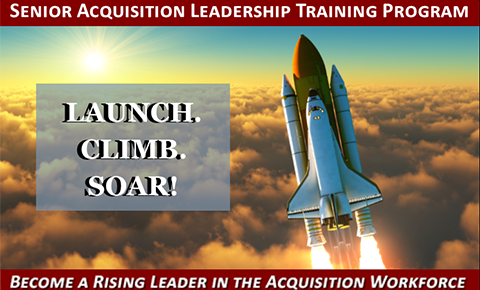 On this page:
About the Program | Timeline and Location | Eligibility Requirements | Process for Applying | Informational Webinar | Frequently Asked Questions | Fact Sheet
This cohort-based development program is targeted toward advancing critical GS-1102 leadership competencies among the VA contracting workforce. Emphasis is on real-world scenarios and the use of learning agility techniques to cultivate a strategic, results-oriented perspective among rising VA leaders. The program provides a multimodal experience of instructor-led courses, web-based training, social learning platforms, and interactive real-world application, and culminates in a Capstone project centered on applying program content and developmental learning skills to address an existent HCA-sponsored, VA challenge. Throughout the SALT Program, there are also numerous opportunities for cross-organizational information exchange, peer relationship-building, direct engagement with Senior Executives as teachers, and ongoing collaboration and innovation.
Fully funded for those participants who satisfactorily complete the program. Apply now to the elite SALT Program.
Get Ready to Propel Your Career Forward: SALT Goals
Module 1 Topic: Understanding Self and Others
Establish a personal Leadership Development Plan, evaluate the importance of building constructive and effective relationships with people at all levels, and apply your understanding of self and others toward enhancing your leadership style and organizational reach.
Module 2 Topic: Thinking Strategically to Get Results
Understand and assess your local enterprise challenges and proactively resolve issues within your reach. Broaden your perspective to encompass the business strategy at your organization, VA, and the Federal Government. Develop solutions by engaging all functional areas and move towards a more strategic, results-oriented perspective to advance organizational objectives.
Module 3 Topic: Stakeholder Communications and Management
Skillfully develop and execute communication techniques to implement solutions and manage change, while transforming negative perceptions into positive outcomes. Enlist advocates to further cultivate opportunities and communicate across multiple stakeholders in a way that solicits buy-in and motivates others to deliver the desired change.
Program Outcomes: What You'll Walk Away With
An individualized 360 development assessment, coupled with expert coaching
A connection with Senior Executives as Teachers to gain relevant leadership perspective from their real experiences
A keen awareness of your leadership style and tips for working effectively with others across the organization to get results
Deeper insights into organizational and business principles, systems, and strategies needed to drive results within VA contracting more broadly, and within your organization specifically
A more nuanced understanding of and targeted approach to stakeholder communications and change management, aligned with broader mission-oriented goals
A strategic leadership perspective characterized by leadership and learning agility, enabling you to act quickly and effectively in new, challenging leadership environments
Timeline and Location of Program
Nine months (October 2017 — June 2018), totaling approximately 245 CLPs
In-Person Component: Veterans Affairs Acquisition Academy (VAAA), 7485 New Horizon Way, Frederick, MD 21703

October 30-November 3, 2017
March 5-9, 2018
May 7-11, 2018
June 11-15, 2018

Virtual Component:

Intermittent virtual training between October 2017 and April 2018 may be completed from your desk
70 hours total of virtual learning will be comprised of independent assignments, virtual classroom sessions, and Capstone project work outside of on-site training
Enrollment in SALT is open to select, high-performing VA GS-1102s who meet the following qualifications:
Minimum VA 1102 contracting experience of June 2015 — June 2017 (VA organization could change; a minimum of two consecutive years required)
FAC-C Level III attained and maintained
GS Levels 13 through 15
Currently in an official supervisory position*
* In the event the applicant is not a supervisor, but meets all other SALT eligibility requirements, he/she may still apply to the SALT Program provided an Endorsing Official, one level above the applicant's supervisor, recommends the candidate for approval. If that Endorsing Official is the HCA, he/she will be identified on the application and no additional signature/commentary is required as the HCA will ultimately select the best qualified SALT applicants based on evaluation criteria.
Process for Applying to SALT
Complete and compile your application package (including application form, resume and resume cover page, electronic copy of FAC-C Level III Certificate, supervisor recommendation, and an endorsing official recommendation if applicable).
Submit complete application package to the VAAA SALT Program Team via email (VAAASALT@va.gov).
Using the evaluation criteria featured below, HCAs will make an endorsement determination by mid-July 2017. SALT applicants will be notified of their acceptance status by late July 2017.
Note: Each organization has been allotted a maximum number of seats in the program based on their representative size within the VA contracting community.
Apply Now: Please download the Application Form.
Application Deadline
Application packages must be submitted by 4:00pm (Eastern) on Friday, June 30, 2017 via email (VAAASALT@va.gov).
Selection Criteria
Participant applications will be scored by their administration's HCA across six criteria, spanning Professional Development, Benefit to VA, Leadership Experience and Vision, Scope and Complexity of Experience, Effective Communication and Quality of Application. Core criteria being considered are as follows:
Applicant's background demonstrates consistent performance and accomplishments reflective of a self-motivated leader, and the applicant clearly communicates how participation in the program will help him/her achieve realistic, actionable goals to become a senior leader.
Applicant's response clearly describes how his/her participation in SALT will benefit VA, and includes supporting examples.
Applicant's response demonstrates evidence of a strategic vision, and reflects the following leadership attributes: adaptable, accountable, focused, results-oriented, and people-centric.
Applicant provides strong evidence of contracting expertise in managing people through multiple procurement types and levels of complexity. Applicant's resume and the Supervisor's recommendation demonstrate a tendency to do more than is expected.
Supervisor's recommendation provides examples where the applicant has demonstrated respect for and collaboration with his/her coworkers through: knowledge sharing; being a reliable team player; coaching/mentoring; and empowering his/her team. Supervisor's response also indicates why the applicant would be a good fit for VAAA's Senior Acquisition Leadership Training (SALT), considering the applicant's leadership development goals, capabilities, and drive for results.
If applicable, the Endorsing Official's recommendation provides a compelling reason(s) why the applicant's participation in the SALT program will benefit the cohort and organization as a whole.
Applicant's overall package represents a high quality, thoughtful response. All components of each essay question have been fully addressed.
View the SALT Frequently Asked Questions and Fact Sheet.
Join us for upcoming SALT Informational Webinar!
To learn more about SALT and to seek clarification on program guidelines, please join us at one of the following webinars:
None are scheduled at the current time. Please check back here at a later date.
X
External Links Disclaimer
This page may contain links to pages and/or documents outside the Department of Veterans Affairs Domain. These are annotated as shown below. We hope your visit was informative.

U.S. Federal/Military/State Government Sites — You will leave the Department of Veterans Affairs web site by accessing links annotated with this graphic.
X
External Links Disclaimer
This page may contain links to pages and/or documents outside the Department of Veterans Affairs Domain. These are annotated as shown below. We hope your visit was informative.

Non-Government Sites — You will leave the Department of Veterans Affairs web site by accessing links annotated with this graphic. VA does not endorse and is not responsible for the content of the linked web site.