Attention A T users. To access the menus on this page please perform the following steps. 1. Please switch auto forms mode to off. 2. Hit enter to expand a main menu option (Health, Benefits, etc). 3. To enter and activate the submenu links, hit the down arrow. You will now be able to tab or arrow up or down through the submenu options to access/activate the submenu links.

Veterans Affairs Acquisition Academy (VAAA)
Senior Acquisition Leadership Training (SALT)
Apply Today for the FY24 Hybrid SALT Program:
A Blend of In-Person and Online Leadership Training.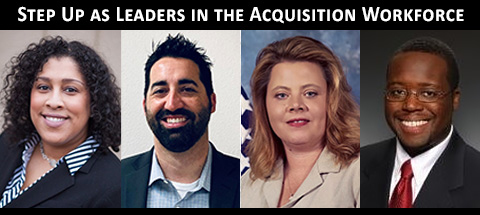 On this page:
Timeline and Location | Eligibility Requirements | Process for Applying | Frequently Asked Questions
Application packages must be submitted by 4:00 p.m. ET on Friday, June 30, 2023, to VAAASALT@va.gov.
Join the Award-Winning SALT Program
SALT is the #1 ranked public sector recipient of the Learning100! Award by Elearning! Magazine. SALT is also a recipient of the LEAD Award for leadership excellence.
SALT is open enrto both Supervisory Level III Contracting and Senior Level Program/Project Management Professionals!
This cohort-based development program for Supervisory GS 13-15 1102s and Program and Project Managers and Non-Supervisory GS14 and 15 is designed to move the emphasis from technical to leadership competencies, creating leaders who are agile, understand themselves and others, think critically and strategically to get results, communicate effectively, and are able to manage and lead change. Possessing these skills will allow individuals to manage where they are now, while readying themselves for the future. The program provides a multimodal experience of instructor-led courses, social learning platforms, and interactive real-world application. The program culminates in team Capstone projects centered on applying program learnings to address identified acquisition leadership challenges. These projects will be sponsored by Senior Leaders. Throughout the SALT Program, there are numerous opportunities for cross-organizational information exchange, peer relationship building, direct engagement with Senior Leaders as teachers, and ongoing collaboration and innovation.
I recommend the SALT Program because it is different than most leadership programs, it compels you to dive deep into yourself to identify areas of improvement that help you to become a true leader. ~Tamela Grandberry SALT Graduate
Propel Your Career Forward
SALT Program/Project Management Perspectives
The Hybrid SALT Program will cover key leadership topics and agility factors. Key leadership topics include:
Understanding Self and Others
Evaluate the importance of building constructive and effective relationships with people at all functions and apply your understanding of self and others toward enhancing your leadership style and organizational reach. Examine your EQ360© assessment results with a certified EQ360© coach to recognize your strengths and development areas as it relates to relationships with others.
Thinking Strategically to Get Results
Develop strategic thinking and problem-solving skills in acquisition situations to effectively manage, assess, and continuously improve performance. Apply creative techniques to expand solutions that promote one vision and mission, improve organizational learning among all stakeholders, and strengthen culture as a leader within your organization.
Words and Strategies in Action: Turning Challenges into Opportunities
Employ learning agility, the systems thinking approach, and emotional awareness to develop and execute communication techniques to implement solutions and manage change, while transforming negative perceptions into positive outcomes. Enlist advocates to further cultivate opportunities and communicate across diverse stakeholders in a way that solicits buy-in and motivates others to deliver the desired change.
Your Leadership Legacy and Capstone
Reflect upon the program period and how you can use agility factors learned in SALT to leave a leadership legacy for others. You will be equipped to confidently take steps forward with actionable short-term and long-term leadership development plans to succeed in your acquisition responsibilities.
Capstone Project
Work with a team of your peers and a sponsor to address a "real world" acquisition challenge. Your team will work together to research, design, and develop various capstone deliverables throughout the program. The program will culminate when your team presents your recommendations in the form of a white paper and a presentation to distinguished acquisition Senior Leaders and sponsors.
Program Outcomes
An individualized EQ360© development assessment, coupled with expert coaching. The Emotional Quotient (EQ360©) component informs the individual of their ability to recognize and manage emotions when interacting with others, a critical skillset for procurement.
A connection with Senior Leaders as teachers to gain relevant leadership perspective from their real experiences.
A keen awareness of your leadership style and tips for working effectively with others across the organization to get results.
Through strategic thinking, gain deeper insights into organizational and business principles, systems, and strategies needed to drive results and create a positive culture within the acquisition profession and your organization specifically.
A more nuanced understanding of and targeted approach to stakeholder communications and change management, aligned with broader mission-oriented goals.
A strategic leadership perspective characterized by leadership and learning agility, enabling you to act quickly and effectively in new, challenging leadership environments. Know what to do…when you don't know what to do!
Timeline and Location of Program
The SALT Program will be held in person and virtually between October 2023 and May 2024. One cohort will be offered to a blended audience, combining contracting and program/project management professionals to foster a better sense of awareness and a deeper understanding of what can sometimes seem like competing agendas.
The cohort will be limited to no more than 30 participants. Upon successful completion of the course, participants will receive approximately 200 CLPs.
SALT Program Organization
The hybrid SALT Program will consist of 11 days of in-person training and regularly scheduled virtual classes and engagement sessions. In-person sessions at VAAA in Frederick, MD will be held October 23-26, 2023, March 5-7, 2024 and May 13-16, 2024, 8AM – 5PM ET daily. Virtual sessions will be held twice-monthly on Tuesdays from 10:30AM – 4:30PM ET, starting November 14, 2023 – April 30, 2024. There will also be approximately 50 hours of individual course work/Capstone deliverable work to complete outside of class time. For full details, view the SALT schedule. Please note that times and dates listed may be subject to change.
Refer to the FAQ for more information.
The best part of SALT was that I was able to immediately apply what I learned to my day-to-day work! ~Bill Hohorst SALT Graduate
Enrollment in SALT is open to select, high-performing GS-1102s and P/PMs, and CORs who meet the following qualifications:
Minimum 1102 or P/PM acquisition experience of June 2021 - June 2023 with your current agency (organization could change; a minimum of two consecutive years required)
FAC-C Level III or Senior Level FAC-P/PM or FAC-COR III
Current Supervisors at the GS Levels 13 through 15 OR current Non-supervisors at the GS Levels 14 through 15
Process for Applying and Selection
Application Process

Download the SALT Application and instructions.
Complete and compile your application package (including application form, resume and resume cover page, electronic copy of FAC-C Level III or Senior Level FAC-P/PM Certificate or FAC-COR III Certificate, supervisor recommendation, student biography and photograph, and an endorsing official recommendation if applicable).
Submit the complete application package to the VAAA SALT Program Team via VAAASALT@va.gov.

• Evaluation of VA Applicants: HCAs will make endorsement determinations for FAC-Cs and SES will make endorsement determinations for FAC-P/PMs. SALT applicants will be notified of their acceptance status no later than mid-August 2023.
Application Deadline
Application packages must be submitted by 4:00 p.m. ET on Friday, June 30, 2023 to VAAASALT@va.gov.
Download the SALT Application.
Refer to the FAQ for more information.